"Trackstar was so efficient – absolutely brilliant.  When it came to my renewal this year, I wondered whether it is worth it, but I'm so glad I did and I will always do so in future.  I'll be recommending you to all of my friends"
These were the words on the 30th June 2020 from Mrs. Summerfield (not her real name) when speaking to one of Trackstar's regional business managers following the successful recovery of her motorhome.
Unfortunately for Mr and Mrs. Summerfield, on the morning of the 30th June they woke to find that their Citroen Relay motorhome they had spent countless holidays with, filled with mementos, personal belongings and most importantly memories had gone.
Mr. Summerfield initially went to the next street over from where he had moved the vehicle the evening before as, like most people in this situation he reasoned that maybe he had misremembered moving the van, especially as both sets of keys were still in the house.  But unfortunately, his fears were confirmed and the van had been stolen.
Mrs. Summerfield initially called the police and then Trackstar to report the theft.
Trackstar immediately put an emergency track and trace on the vehicle, which enabled them to locate the vehicle only 20 minutes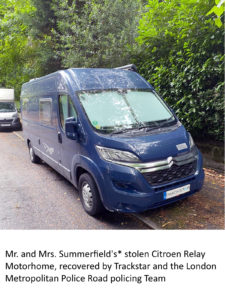 from the customer's house.  Trackstar has priority links to all police forces in the UK and Europe and once they had the location of the vehicle, they immediately contacted the Greater Manchester police's road policing team to inform them.  They sent an unmarked car to the location, where the vehicle was parked and contacted Mrs. Summerfield.
"it was incredible. I was on the phone to my insurers for about 20 minutes and the second I put the phone down the police called to advise that they had found my motorhome and had an unmarked car waiting.  They asked if I was able to come to collect it. I said I would be there in 20 minutes" – Mrs. Summerfield
On assessing the vehicle there were no obvious signs of a break in, with no external damage.  The OBD port had been pulled down and tampered with, which is the likely way the thieves started the vehicle, some interior trims had been carefully removed, mostly likely in an attempt to locate any trackers in the vehicle and the inbuilt sat-nav screen had been taken out, again in an attempt to disable any tracking devices.
Trackstar has an average recovery time of 58 minutes, with recoveries taking place from as little as 8 minutes!
In this case, from the first report of theft to the police, to the police securing the vehicle using the location we gave, only 30 minutes had passed!
"This was a great news story for Mr. and Mrs. Summerfield.  Unfortunately, at this time of year, Motorhome, Leisure vehicle and Caravan theft is very high and organised vehicle crime gangs have sophisticated technology at their disposal to enable them to steal these vehicles quickly and quietly.  What happened in this case is typical, however.  The thieves clearly attempted to locate a tracker in the vehicle by removing interior trims and even took out the internal sat-nav in case it could be tracked that way.  Because they couldn't find one they played it safe and left the vehicle in an inconspicuous spot to see if it would be collected and also to protect the place they would usually store their stolen vehicles, before stripping them for parts or exporting them abroad.  Had the vehicle not been collected within a couple of days, they could be confident there is no tracker in the vehicle, would have collected the van and the chances are it would never have been seen again.  This was a great effort from Trackstar and the Metropolitan police and now that it has been tracked and recovered, it is very unlikely the thieves will target this vehicle again and will probably move on to another, less secure unit.  
Like Mrs. Summerfield said a motorhome is more than just a car, or a van.  It is a second home, a lifestyle and losing one to theft feels personal, like a burglary.  I am very happy that she's happy and now that the lockdown rules for most of England are being lifted to allow camp sites etc. to open from July they can make many more happy memories in their pride and joy" – Earl Angell (Regional Business Manager)
Trackstar offer Thatcham approved S7 and S5 systems for motorhomes and campervans and have a battery powered unit to protect caravans that only need a battery change once every two years!
Trackstar also offers the Trackstar S5 Advance, with built in immobilser to prevent the theft happening in the first place!
Main Features
S5 Thatcham Approved
Insurance Approved
24/7/365 Secure Operation Centre
Advanced Driver Recognition Tags / Blu-tags
Main Features
S7 Thatcham Approved
Insurance Approved
24/7/365 Secure Operation Centre
For more information,
please call us at +44 (0)345 6045433 or
send the form below and we will contact you within 24 hours
* The personal data collected in this form will be used by Teletrac Navman to provide you with information relating to your query. By submitting this form, you agree that this personal data will be processed on accordance with our privacy notice